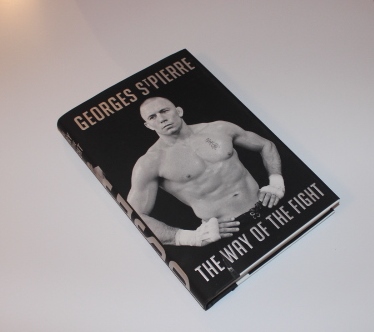 ---
The Way of the Fight provides an in-depth look into Georges St-Pierre's methodical approach to life – inside and outside of the octagon.
The book disregards the traditional idea of chapters and is cleverly partitioned into five sections, "Mother," "Mentor," "Master," "Maven," and "Conscience." Each section displays the voice of someone who has significantly impacted the fighter's life. This separation is attractive initially; however, it becomes apparent that this style calls for a solid chunk of pages to be read at once to maintain coherency.
Right off the bat, GSP takes my breath away with his elegant description of his nightly rituals. I quickly learn that he is embedded in his routine, always preparing for tomorrow.
Georges knows what he wants; he explains that he is striving to be the best writer in his category – page for page and pound for pound. I affirm that he may do just that, as the collection of ideas he presents are valuable.
Early on, GSP shares the impactful Aristotelian term arete:
It's a Greek word with no real equivalent in any other language so far as I can tell, but basically arete is about looking into your own soul and not only discovering what it is that can make you great, but also identifying the source of that greatness and activating it every single day of your life. It's the well you draw from when there's no other resource. It's the absolute truth that sits in the deepest part of your soul.
Another idea he shares, "shootboxing," refers to the integration of various skills used by a fighter. Being able to streamline the interface between differing facets of MMA has played a significant role in perpetuating GSP to the top of his sport.
The master, John Danaher, attributes Georges's success to his tremendous sense of vision. He has always had an extremely clear idea of what he wants to do and where he wants to do it. John goes on to explain that vision cannot work singularly; the marriage of vision with discipline is what takes the cake. The secret to achieving this lays within routine – always routine with this guy.
One of my favourite ideas presented in the book appears on page 162:
So the question is: What happens when you accept and embrace your fear? Fear becomes your weapon.
Some people are totally incapable of seeing fear as an opportunity to get better at something [or to use fear] to develop the best version of themselves. Some people wallow in their fears and try to suck their friends into the pit with them.
Somewhere in the middle of the book, the tone becomes a little too braggy for my liking. Georges himself is humble and merely assertive, but his associates sing his praises excessively. Unfortunately, it brings an element of redundancy to the work.
Redemption is soon found, as the read ignites a fire under me to reach my goals. With an unwavering vision, transcendent commitment, and extraordinary work ethic, GSP is sure to inspire any reader to work their ass off to get what they want.
There is a Confucius quote discreetly placed under a picture of GSP that heavily resonates with me: ""Silence is a true friend who never betrays."" Often the squeakiest wheel gets the grease, and the loudest voice is the one that is heard. This writer exemplifies that the right voice isn't always the most bodacious one, "He could never really be sure of anything except awareness of his own ignorance. It's about how much higher an individual needs to go."
The last twenty pages of the book are jam-packed full of intriguing concepts and inspiration. Georges explores the torment of creating balance in one's life. He expresses that suffering often allows an individual to truly appreciate the release of happiness, "When great depths of unrelenting sorrow are punctuated by great peaks of joy and liberation, the result is delicious. It's about appreciating the little things that make my life so great…"
Through his book, Georges showcases how to create one's best life, expressing that it is vital for people to put energy only towards the things that are important to them. Master those things, and forget about the rest. I intend to do just that.
Casey