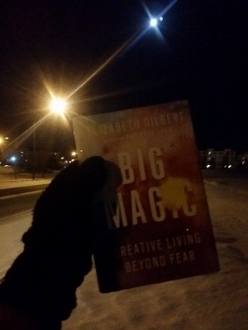 ---
A while ago, I read Big Magic by Elizabeth Gilbert. After only a few pages, the author had drawn me in. I was captivated. The read was simple and encouraging. Elizabeth tossed out all the garbage that was floating in my mind, and she replaced it with a sense of calm confidence.
Big Magic promoted me to leave behind the comfort of basking in my fears and finally gather the courage to share my work. The foundation of that fear was insecurity – insecurity that my work was not good enough. Elizabeth entices readers to shove aside their fears in favour of living dynamically through their creativity.
This book is the gift that keeps on giving. Buy it, read it, and pass it on. Its magic is meant to be shared.
Casey